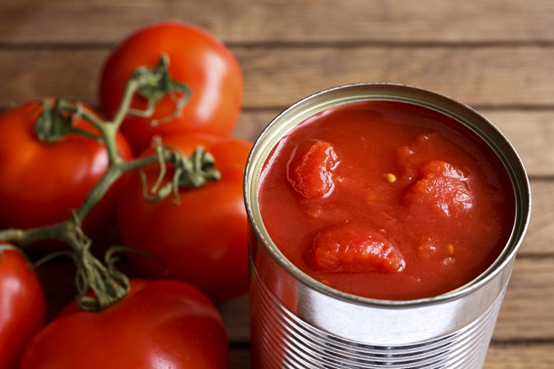 If you want great tasting tomatoes when they are not in season, look no further than canned tomatoes. Canned tomatoes are tomatoes that have been picked when ripe and sealed in a can using heat. Sometimes they are peeled and sometimes the skin is left on. These whole, diced or crushed tomatoes can easily be used in many different ways.
Canned tomatoes can be bought in many forms:
•Whole tomatoes are usually peeled.
•Diced tomatoes keep their firm texture for longer, which is great for meals where a chunkier texture is needed, such as chilli or bruschetta.
•Tomato paste is made from tomatoes that are cooked for a long time and strained. It has an intense tomato flavour.
•Tomato puree is made from tomatoes that have been cooked for a short time and strained to make a thick liquid.
•Tomato sauce is thinner than tomato puree and often has seasonings and herbs added to it so that it is ready to use.
Many of these canned tomato products come in a no-salt added version. This is a great choice for cutting down on sodium.
Nutrition
•Tomatoes are rich in vitamin C and contain small amounts of vitamin A, folate and potassium.
•Tomatoes are also a source of lycopene, a natural antioxidant which gives tomatoes their red colour. Eating foods that have lycopene may help lower the risk for heart disease and prostate cancer. Cooked tomatoes have more lycopene than raw tomatoes.
Buying local canned tomatoes
Look for the Product of Canada label on canned tomatoes to find out if they are locally produced. Buying Canadian foods supports the Canadian economy and our farming families.
Tips for storing canned tomatoes
•Store unopened cans in a clean, dry place at room temperature. Heat can activate bacteria and spoil the food.
•Put the oldest cans in the front of your cupboard so they get used up first.
•Throw away any cans that are leaking or bulging, or if they have a bad smell when opened.
•Store-bought canned tomatoes can be kept for up to 18 months.
Using canned tomatoes
•Refrigerate any leftover canned tomatoes by transferring them from the can into air-tight plastic or glass containers.
•Tomato based products, fruits and juices should be used within five to seven days.
5 things to do with canned tomatoes
Make a pasta sauce
•Sauté chopped onion and garlic in some olive oil.
•Add canned, diced tomatoes. Add a pinch of dried basil, oregano and pepper flakes to taste.
•Toss with cooked, whole grain pasta. Top with shredded cheese or hard cheeses like parmesan cheese.
Make your own salsa
•Start with canned diced tomatoes.
•Add green onions, jalapenos, red onions, garlic and cilantro.
•Serve with whole grain tortilla wedges, crisped in the oven.
Mix up some easy pizza sauce
•In a medium bowl, mix together 1 can (398 mL) of tomato sauce, 1 clove of garlic (minced), ½ tsp (2 mL) dried oregano, ½ tsp (2 mL) dried basil.
•Spread mixture over whole grain pizza crust.
Cook up a fast and tasty tomato lentil soup
•Heat 1 Tbsp (15 mL) olive oil in a large saucepan or Dutch oven. Lightly brown 1 chopped onion in the oil.
•Add tomatoes (796 mL can diced tomatoes), red lentils (1 cup/250 mL), cumin (1/2 tsp/2mL) and basil (1 tsp/5mL) to the pan along with 1 cup (250 mL) water.
•Bring to a boil, then reduce heat to medium-low and simmer for about 20 minutes, or until the lentils are tender.
•When the lentils have softened, blend the soup.
•Top with Greek yogurt if you like.
Poach up some eggs in tomato sauce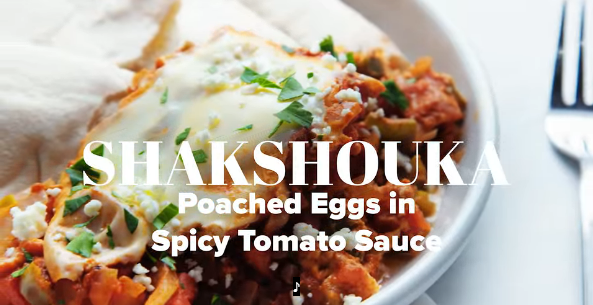 •Sauté onion in olive oil until tender (about 5 minutes).
•Add 1 can (796 mL) diced tomatoes, basil (1/2 tsp/2 mL), and pepper and bring to a boil.
•Increase heat to medium-high and cook, stirring frequently, until most of the liquid has evaporated, about 15 minutes.
•Press back of large spoon into tomato sauce forming 8 wells. Carefully break 1 egg into each well. Season eggs with salt and pepper.
•Cover and simmer over low heat until eggs are poached to desired doneness, 6 to 8 minutes. Remove from heat.
•Sprinkle ½ cup (125 mL) shredded cheese over eggs. Cover skillet and let stand until cheese is melted, about 1 minute.
Source from: www.unlockfood.ca